Asiasoft invited the bloggers to preview the new Maplestory Episode 3 CHAOS @ Group Therapy last week! Thanks for the invite, HP!
Since you can't be there, why not let me share with you what I have learnt about the new Episode 3!
With the Big Bang revamp in May 2011, Asiasoft brings the CHAOS content update!
Now, instead of hitting Mushrooms and poking Monsters, you can NOW challenge other players!
CHAOS update is divided in to three phrases, the Return of the Heros, where the Heros class skills are rebalanced, alongside with other Classes.
1 - RETURN OF THE HEROS (19 October 2011)
New skills
such as
Vital Steal, Sharpness, Blade Fury, Phantom Blow
are added to complement the
Dual Blades' existing skills
!
Aran, Evans
also have new skill added to them too!
2 - Technological Age & Super Fight (9th Nov 2011)
Don't you find it too peaceful?
In this second installment of the CHAOS update, players can learn
new profession skills
! Each character will be unique as you can learn 2 out of the 5 available skills such as:
1) Herbalism
2) Mining
3) Equipment Forging
4) Jewel Crafting
5) Alchemy
NOT ONLY THAT, this installment enables each player to pit against one another individually or in teams!
Here is some photos of my PvP experience!
Get some chips and watch me showdown with the other bloggers!
Playing PvP for the first time on this shinny, blazing fast Alienware laptop!
Playing using a LV 200 Mage (not my account hor! I where got so pro!)
Even the buddy sitting beside the laptop also wants to join in! (:
Anyway, I ended with only 200+ points.
So, what's next?
3 – Ice Knight (23rd Nov 2011)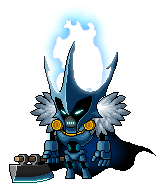 In this game, 1 player will be randomly chosen to be the ice knight! There must be 10 players to activate this mode! The idea is to challenge the Ice Knight to emerge the winner! The Ice Knight have skills to freeze and attack the other players to prevent them from defeating him.

Does that make you want to try out the cool new additions to MapleSEA?
Well, that's all from the MapleSEA CHAOS update! For detailed game information, visit
maple.asiasoftsea.com
!
(Credits: MapleSEA for Game graphics and videos)